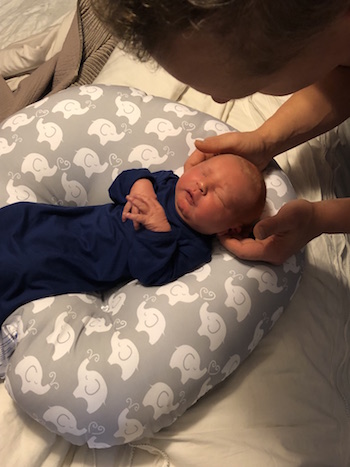 We are pleased to announce that Dr. John and his wife recently welcomed Simon, their fourth child, into the world! It was the longest and most challenging labor for Mom and Dad. Along with getting adjusted through her pregnancy, Dr. John and his wife worked through various techniques found on www.spinningbabies.com to improve positioning and facilitate the birth process. His wife also received an adjustment shortly after the birth to improve her recovery.
Little Simon was born in the caul, which is very rare—happening only about 1 in 80,000 births. This led to some breathing congestion and difficulty nursing. Simon was immediately adjusted and showed an improvement in his ability to breastfeed, which is a common benefit following a newborn adjustment.
Though many parents choose to have their baby adjusted soon after birth, others take a more reactive approach, waiting to bring their child in when they have colic, reflux or sleeping issues. While both approaches are beneficial, we believe the sooner chiropractic is introduced the better!
Addressing a Stressed Nervous System
Even the natural birth process can be traumatic and invasive due to the force exerted on the baby. We often hear moms say, "I had a C-section, so there was no stress put on the baby." That's not true. An osteopath did a study that looked at 1,500 babies over an 8-year period and found that 80% of them had some level of strain or distortion in the upper cervical area, regardless of birthing method. Babies often come out in an almost sympathetic fight-or-flight lockdown. That's why their nervous system needs to be checked. We work with kids to unwind the nervous system so their bodies can grow and heal optimally.
If you're a mom who we adjusted through your pregnancy, we will do a complimentary postpartum adjustment for you and your baby. During that time, you will be able to ask any questions you may have about continuing pediatric chiropractic care for your new bundle of joy.
Your chiropractor can check your baby during the first appointment and then set up a subsequent visit. At this appointment, we can run Insight™scans to determine the level of disturbance that might be present. Then, an accurate care plan will be devised to address the stress that's going on with your baby's system.
Rest Assured, We Adjust Babies Gently!
Only very light pressure is applied during an adjustment, about the same amount that would be used to check the ripeness of a tomato, or the amount of pressure you would feel comfortable placing on your eyelid. We find that once a parent sees their baby get adjusted, they're much more comfortable with it.
Get your baby off to a healthy start in life. Contact us today to schedule an appointment!