Pregnancy and Pediatric Chiropractic Care
in Little Rock
Experience an Optimal Pregnancy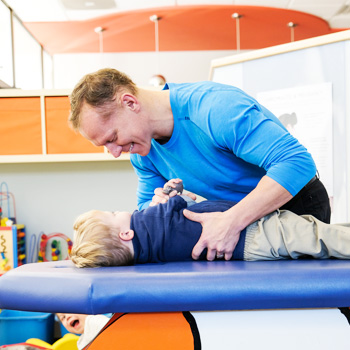 During pregnancy, many women will deal with various aches and pains including lower and upper back pain, round ligament pain or pubic bone pain. Chiropractic is effective when it comes to relieving pain and optimizing the birth process. According to a study women who seek chiropractic care at 20 weeks on have a 24% decreased time in labor. For second births they can experience a 39% reduction in labor time!
As a highly experienced pregnancy chiropractor, Dr. John has an excellent reputation within the chiropractic community. In fact, many local chiropractors refer their pregnant patients to him because they're not comfortable adjusting moms-to-be. An Epic Chiropractor, he's certified in Webster Technique and completed a certification program in pediatrics and pregnancy through the International Chiropractic Pediatric Association (ICPA) in 2011.
Promoting Nervous System Health After Childbirth
Chiropractic is also essential after birth because the childbirth process can be stressful for Baby. Stress can happen even during a natural birth process let alone when a C-section, forceps or vacuum extraction is involved. Considerable torque and force are put on the baby's spine and nervous system. Helping to unravel that and get the nervous system functioning better are vital when it comes to ensuring development takes place as it's supposed to.
Helping Kids of All Ages
At every age of childhood, chiropractic can be highly beneficial. In younger kids, who tend to fall a lot and get bumps and other traumas, chiropractic can help. Older children who often carry heavy backpacks or play sports typically have back and neck pain or other injuries. Chiropractic can help to reduce interference in the nervous system so kids of every age can enjoy an improved range of motion and function.
As a dad of four, Dr. John regularly adjusts his children. He is highly skilled in providing safe and gentle chiropractic adjustments.
CONTACT US »
Discover the many benefits of pregnancy and pediatric chiropractic care. Contact Wellness Revolution today to book an appointment!

Pregnancy and Pediatric Chiropractic Care Little Rock | (501) 821-6934