We're so excited to share our August and September Patients of the Month!
A big CONGRATULATIONS goes to our August Patient of the Month, Robin! The difference between her pre and post heart rate variability is truly remarkable. For those of you who are not current patients or have not gotten scanned in a while, the heart rate variability scan helps our doctors determine your overall ability to adapt to the environment. It does this by looking at the timing of your pulse, and determining the balance and tension within your nervous system. A score wi
thin the green box on the graph is associated with better adaptability and relates to a healthy lifestyle. Robin's heart rate variability scans show a great improvement!
Robin is a regular patient and a current member of our boot camp classes here at Wellness Revolution. Since she started chiropractic care, she has better range of motion and mobility in her shoulders. She can push herself more in our boot camp classes and she feels like she has gained 15 years to her life!
We are so excited and so proud of Robin and her progress!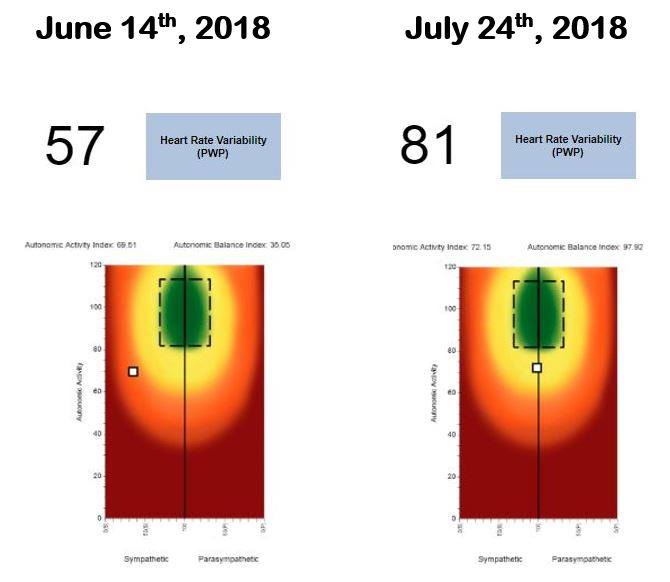 For September, we have Cassie and Malachi!
Before seeking care at Wellness Revolution, Cassie was experiencing extreme lower back pain when standing or sitting for too long. There were even times when her hips would shift when she was standing and holding her baby. This all stemmed from a previous back injury that worsened during her pregnancy. She didn't understand the value of a chiropractor until someone at her gym mentioned how they have been helped.
Before, she thought her only hope would be surgery, followed by medication or being in pain forever. Her son, Malachi also experienced an extremely traumatic birth and because of that, he constantly kept his body tense and didn't sleep well. She didn't know much about what chiropractors could do for her baby, but heard from a friend that their baby was also helped by Wellness Revolution. So she decided to try it out as well.
Since seeing the doctors at Wellness Revolution, their lives have improved drastically. Malachi is much more relaxed, and can lay completely on the ground. He also sleeps through the night! As for Cassie, she can pick him up, she can hold him for an extended period of time, and she can exercise with no pain.
When asked where she planned to go in the future with her chiropractic care, Cassie said "With the knowledge I have gained here I want to help people and encourage people to seek this kind of care before anything else, and seek wellness all around."