Massage Therapy
at Wellness Revolution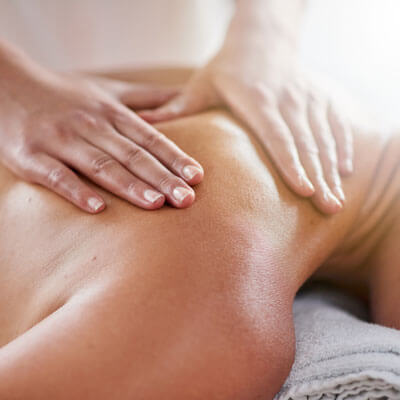 Massage therapy is beneficial on its own, and it's a great adjunct to
chiropractic care
, helping soft tissues release old patterns. Plus, it feels fantastic!
How Massage Therapy Supports Chiropractic Care
When we have misalignments in the joints that cause pain or prevent proper movement, the nervous system is affected. The soft tissues (muscles, tendons and ligaments) of the body respond to the nervous system, so when something isn't right with the joints, the body attempts to compensate in various ways. One of those compensations is the soft tissue will attempt to protect the affected area.
The result is the "knots" we feel, tight muscles, and problems with ligaments or tendons. Massage therapy works directly with the soft tissues to break down these patterns. Massage therapy also facilitates healing by increasing blood flow to the affected areas. When we relieve the soft tissues through massage, your chiropractic adjustments can work more effectively and hold longer. Massage therapy provides an efficient complement to optimize your chiropractic care.
Tailored Care
Massage therapy includes various techniques, which help promote health and well-being, on their own or in combination with chiropractic care. Research shows that massage therapy is highly effective for decreasing stress, pain, muscle soreness and tension.
Our Wellness Revolution certified massage therapist tailors your care to your specific needs. Utilizing therapeutic, deep tissue, sports and prenatal massage techniques, we find the areas of your body that are holding onto tension and help release it. If not corrected, these soft tissue conditions can lead to increased joint pain and problems, resulting in injury.
We'll discuss any areas of pain or discomfort, as well as any current injuries you may have, and your functional goals to help determine which type of massage will best meet your needs. Massage isn't just about having a relaxing experience—it's a powerful healing modality. However, it shouldn't create more trauma for your body, and your comfort is always our priority.
Get In Touch Today
We look forward to helping you get the most out of life. Contact us today to book your appointment.
CONTACT US »

Massage Therapy Little Rock AR | (501) 821-6934