CrossFit and Personal Training
at Wellness Revolution
CrossFit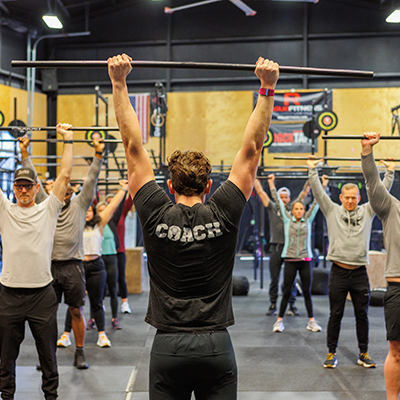 A CrossFit enthusiast, Dr. John recognized that chiropractic and CrossFit could work together to help people achieve optimal wellness. That's why we've incorporated a 10,000-square-foot gym into Wellness Revolution.
CrossFit workouts consist of constantly varied functional movements at high intensity. Every workout is different, consisting of movements we do daily in our real lives. "High intensity" means you perform the movements as fast as YOU can. Your speed and fitness levels are different from everyone else, and your workout is set to your individual goals and abilities.
CrossFit focuses on the following fitness areas:
Accuracy
Agility
Balance
Cardiovascular and respiratory endurance
Coordination
Flexibility
Power
Speed
Stamina
Strength
Improving metabolism, overall fitness and cardiovascular health through CrossFit supports the benefits of your
chiropractic care
, helping you achieve optimal wellness. And regular chiropractic care helps your body work optimally and get the most out of your workouts. It's a win-win situation!
KidFit
KidFIt classes are a fun and exciting way for kids aged 5-12 to exercise and learn healthy lifestyle habits. KidFit is designed to help your child develop their physical abilities, social skills and self-confidence while having fun in a safe environment. During each 60-minute class, kids learn and practice functional movements primarily through drills, games, and bodyweight exercises.
Personal Training
It's always helpful to have somebody make sure you do things correctly, and to hold you accountable when you're working to achieve a goal. Personal training is an excellent way to get the most out of your workouts and help you stay on track as you work towards your fitness and wellness objectives. We have outstanding coaches and offer personal training to fit your needs.
Get Moving Today
We look forward to helping you optimize your wellness through our movement-based services. Contact us today to schedule.

CrossFit, REFIT®, KidFit and Personal Training Little Rock AR | (501) 821-6934